For house music fans, Duck Sauce are a true flagship of the genre. With classic funk based tracks "aNYway" and "Barbra Streisand", they permeated the popular club culture of the past decade. Last year, this powerful duo made up of Armand van Helden and A-Trak began releasing a string of new tracks. In their midst lurked "Mesmerize", whose equal parts bizarre to delicious music video has been nominated for this year's Berlin Music Video Awards in the Most Trashy category.
CGI fever dream 'Mesmerize'
The unsuspecting viewer would be forgiven for mistaking this video in its introductory seconds for a random meme video masquerading as the real deal. However, they would be sorely proven wrong. The act's first music video drop since "NRG" back in 2014 is an absurd, covid-proof CGI fever dream. We have celeb cameos such as Bruce Willis, Morgan Freeman, and Daniel Craig chilling out in a packed nightclub scene. It truly is the dream cast that even the best casting director would be hard-pressed to track down for a shoot.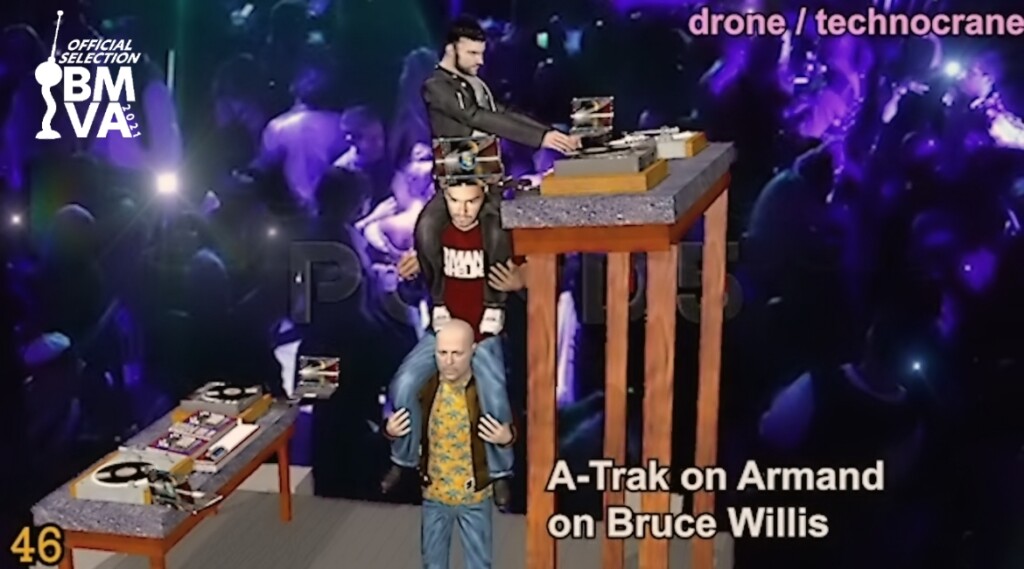 The video produced by Caviar soon descends into chaos, with fourth-wall breaks revealing the editor exiting the Premiere Pro project to make as uninspired google searches as "what are some cool things that happen in clubs" and "movies with cool club scenes", and scanning Shutterstock for stock footage of "drugs". These resources are piled back into the screen-recorded project timeline as the viewer sees the video being built before their eyes. Director/ animator Keith Schofield compiles a wonderful tongue-in-cheek satire of the state of both creative production and club music in a pandemic world. 
Duck Sauce's legacy certainly proceeds them. Although, there is little better proof of their continued relevance beyond on-the-shelf legendary status than a project like "Mesmerize". As entertaining as it is fresh and shocking, it's revelling in its ridiculousness and simple joie de vivre. Despite its perfectly vulgar humour, "Mesmerize" most certainly has a deeper meaning. The playfulness and authenticity of club music can and must be sustained in a post-club world. Duck Sauce leads the genre by the hand once more, insisting that we will dance together again.
Duck Sauce – Mesmerize via Youtube
This production company has offices all around the world in LA, Brussels, Paris, London, and Amsterdam. Caviar is behind numerous films, TV series, commercials, or music videos. To drop a few titles, you should definitely check out Sound of Metal, Coca Cola ad, Cheer, and many more. Besides Most Trashy, Caviar has also received a nomination for Best Production Company!
Author: Eva Earner | Editor: Petra Molnárová