The chants of 'Maria! Maria!' fill the faraway mountains bordering Armenia with Azerbaijan, Samuum's new single. Maria – a satirical ode echoing unsettling tales of repression and cultural taboos attributed to the women of the Middle East. The resilient musical duo between the lead singer, Lusine Kocharyan, and the music producer and director, Andranik Berberian, fiercely clings onto the conflicting Armenian heritage, commanding empowerment for those silenced by toxic traditions.
The story behind the American-Armenian art-rap collective's 'Maria'
"Remember, silence is gold." Samuum vocalizes in the cinematic narrative what is an alarming reality globally; bride kidnapping and forceful marriage. The jolly storyline of Maria, bundled in a carpet like a pile of ornaments, is laced with psychedelic surrealism. The audiovisual piece portrays the abduction as a game-like amusement. It is a truth alive in Armenia, as well as it is in Russia or America, Lusine adds.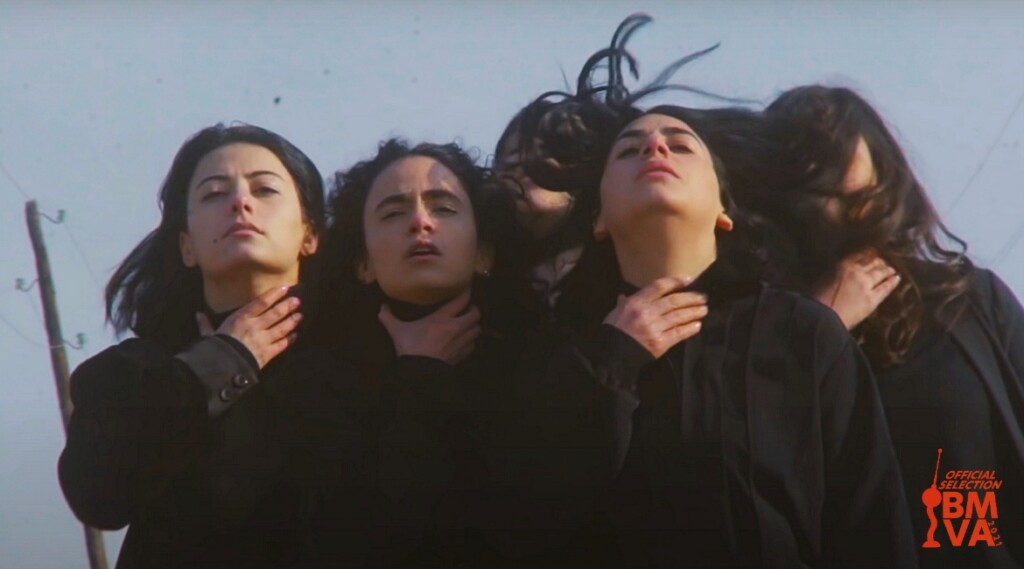 The directors conveying the tales are Andranik Berberian and Levon Bakunc. The frames communicate a simmering sense of stubbornness, embodied by the happy-go-lucky men. The viewer sees them nonchalantly dancing over their land of freedom, enjoying their immunity against accountability. At their will, the men seize, steal, and administer Maria. She is to lightly brush off any sense of shock for her stripped liberty and stay still, literally carpeted.
'Maria' is nothing short of a call to action! The visual account bears the subliminal values attached to women. They are perceived far from cruel, and makes urgent the necessity to change. The production companies behind-the-scene are the US-based Black Dot Films and the Ukraine-based Door to Door Creative Agency.
Samuum's 'Maria' has been nominated for Best Low Budget by the Berlin Music Video Awards 2021. Check out the full music video right here:
Samuum – Maria via Youtube
The band has a new single out – 'Moranam', so go give it some love!
In order to see the full list of nominees by categories, click here.
Author: Janat Sohail Aziz | Editor: Petra Molnárová